Founder and Executive Chairman of GSTS Sinomedica SA
Dr. med. Massimo Fumagalli
is a highly accomplished physician with over 20 years of experience in the medical field and founder of the 9 Sinomedica centers, operating across Switzerland.
Dr. med. Fumagalli has earned several degrees, including a medical degree from the University of Basel and a Master of Traditional Chinese Medicine from the Pacific College of Oriental Medicine in New York. He has also studied TCM at Zhong Yi Yao university in Beijing. Dr. med. Fumagalli has worked as an acupuncturist and TCM Doctor in New York and at university hospitals in Beijing, among other places. He is fluent in several languages, including German, English, Spanish, French, Italian, and Chinese.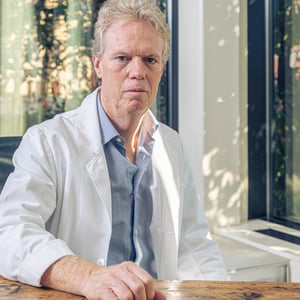 His mission: to make medical acupuncture a mainstream medical treatment accessible to everyone.
Evidence-based acupuncture treatments
Medical acupuncture has gained recognition as a well-established treatment for a wide range of acute and chronic illnesses, physical health concerns and mental health conditions. It also serves as a complementary therapy to support conventional treatments and provides a solution to several public health challenges, such as the increasing prevalence of chronic illnesses, the aging population, obesity and its related conditions.
With Dr. med. Fumagalli's leadership, Sinomedica is at the forefront of driving the advancement of medical acupuncture research and clinical practice. The company's commitment to delivering evidence-based acupuncture treatments and its dedication to patient-centered care have resulted in numerous success stories and positive outcome.

Sinomedica's vision for the future is to continue to push the boundaries of medical acupuncture, expand access to its services globally, and improve the health and well-being of people around the world.
As founder, Dr. med. Fumagalli has established the largest provider of medical acupuncture in Switzerland and one of the largest in Europe.
The group operates several centers specialized in medical acupuncture, uniting more than 20 specialists trained in Western medicine and/or medical acupuncture. Since 2022, Dr. med. Fumagalli is Sinomedica Executive Chairman, leading the expansion of Sinomedica in Switzerland and in Europe.
Under the visionary leadership of Dr. med. Fumagalli, Sinomedica has transformed into the premier medical acupuncture provider in Switzerland. Dr. med. Fumagalli's goal is to elevate Sinomedica to the forefront of science-based medical acupuncture providers in Europe and establish it as the global reference point in integrative medicine.